Three ways to create screenshots:
Paperclip
Planning - create screenshots
Screenshot tool
Requirements:
Website URL must be exactly as the page on which the ad space is built and the screenshot will be created!
Advertising space codes must be installed on the target page - RTB or network not go!
1. Campaign -> Paperclip
In the live delivering the AdServer is at any page on which the campaign is booked take a screenshot of advertising space and matching advertising.
Once combined, and then no screenshot was possible in the next first delivery, then he does not try it again!
Storage on the paper clip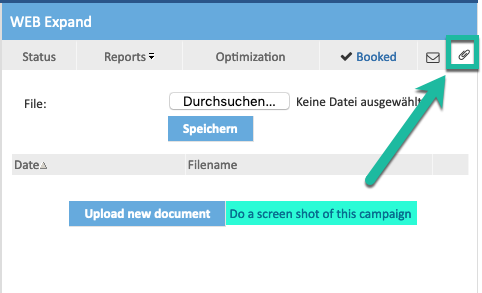 2. Campaign -> Delivery
Enable create screenshot.
The ad server tries to create an automatic screenshot namely at the first delivery of an advertisement. 30 min Goes to no if one was created screenshot or after 30 minutes.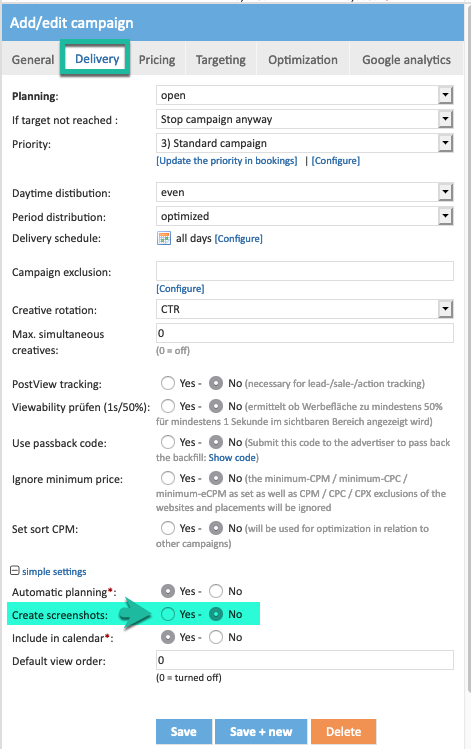 3. Screenshot Tool
(Actually, you could say here we make a Fake compilation.)
Selects the combination of website and advertising material from that you want to see and get a link appears. This link sets a cookie to you so that the normal rotation is undermined and you always see on the respective advertising space the selected advertising media.
Automatically:
Any advertising materials is enforced on any surface - just as I have the selected there. This has nothing to do with what is really booked.
It made three attempts refresh and either there is a result or not.
Express notification: no check on the format - fits so the ad on the billboard. It can also lead to a combination when on the Sky advertising space BOD is displayed.
It is any combination (no check on active or size) is crafted - possible> 3 times Refresh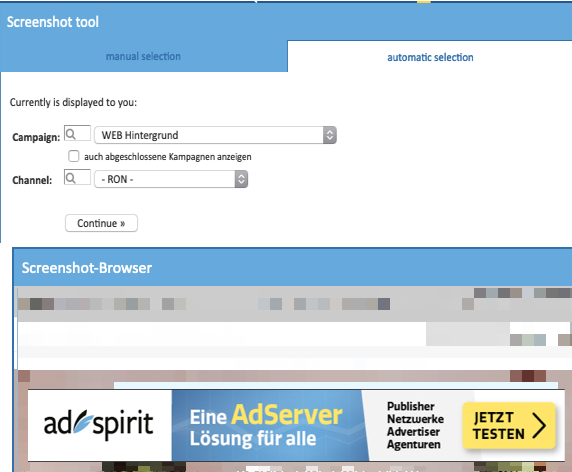 Manual selection:
Here is the create the right combinations on the selection control.
There are obtained the screenshots manually. Through the link that is generated can then use the cookie is set, the display of the advertising material will be enforced.
set as the first cookie -> Normal (combination of website and advertising material)
put a second cookie -> WP (for any 2nd advertising material to be displayed)
set as a third cookie -> Another cookie that forces the display of a third advertisement.
Per cookie which a delivery link is needed generated. Thus, for example, to view a WP must be clicked all the necessary links, and then the website can be accessed on the billboards are installed.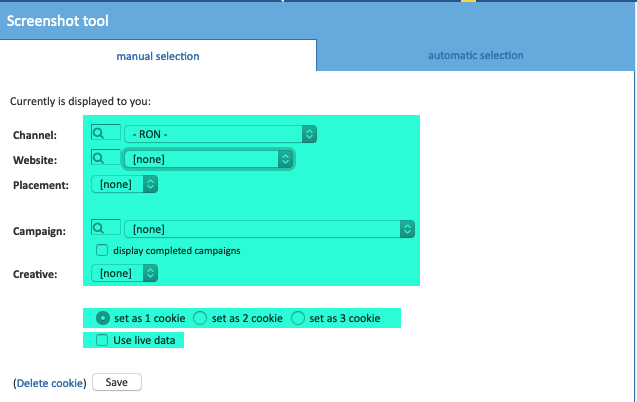 IMPORTANT - click using Life data at WP, so the system checks again whether this combination actually exists and then falls back to a real factory simulation.
Cookie: 60 seconds times 30 ie 30 minutes
Tipp's
Wallpaper positioning on the web page test - without having to place the advertising material live!!!!

You can use the parameter &redirect= + URL urlcoded to redirect the call of the screenshot tool to e.g. subpage during manual selection. This is especially helpful if you give the screenshot link to a customer and the advertising space is only installed on one subpage.
screen shots