Requirements
There are no preparations necessary.
Settings
Campaign / Creative -> Targeting
1. select Languages-Targeting
2. configure Targeting

3. In the Configurator can be searched with the filter for each language. Then select the appropriate language on the +, it is added to the list under the selection.
4. When all the desired languages have been selected, then run change memo .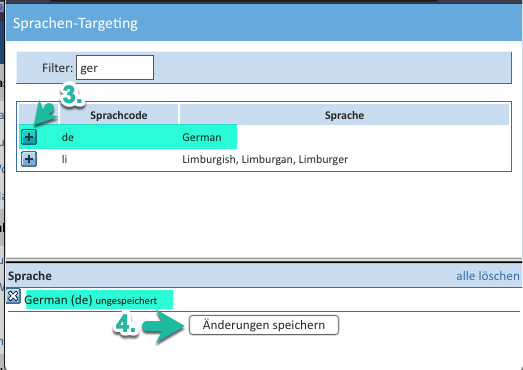 The field Language Codes is now completed.

| | |
| --- | --- |
| | Note: save Campaign / Creative to take over the configuration |
Special feature in Reporting (Report -> Special Reports -> Language):
Since a user can set more than one language, more than einView be here possibly counted in reporting for a user.
For example, if the targeting language = en is set and the user has the languages ​​"en, fr, en 'set with them, then the system will each count one View for de, fr and en.
So reporting a Kamp Agen compared the view numbers can look like this: View number of campaign (3.8 million) with the view numbers in Voice Report: 4.4 (for de duplicate views it because of language codes "de-de" and "de-ch "), 2.4 million for s, 354k for fr ...
Keywords: language, languages, targeting