First, both advertising media must be created for the wallpaper (leaderboard and SKY)
1. Settings for the leaderboard
is under Misc -> setting Associates selected single-day (radio button)
is the Sky link (NOTE: not the other way)
Leaderboard remains unpositioniert!

2. Settings for the SKY
is positioned: If I have for example 728x90 at a leaderboard in size, then make positioning: relative | 728px to the right
disable advertising material
After the update of advertising materials index, the ads should now appear as follows:

Right is displayed a preview of the advertisement and: (Show in new window) the full wallpaper can be displayed.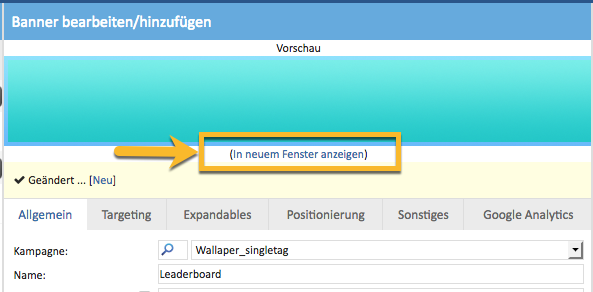 The ad is now on an advertising space for the leaderboard are booked or created in CodeCenter the code for the leaderboard.
Note: only script code or asyc. codes will work