Create creative
Add new physical creative (optionally add new HTML creative) We have chosen a 300x250 gif for our example.
You call up the campaign in which you would like to create the advertising material and click on "x Creatives" to get to the view for creating the creative..



Please start the upload with a click on Upload /File(s)-> Durchsuchen



After you have clicked on "Browse", a new tab/window opens.
A -> Select banner for upload
B -> Click on "Open" to initiate the upload.



After you have clicked on open, the name of the file is displayed in your AdServer. Now you can click on the button "Continue>>" to start the next step of the upload to the image server.

After clicking on "Continue>>", a window/tab opens. Now you can see graphics (creative that is created in the ad server) and Files (Files that are uploaded to the image server).



Please enter the target URL of your advertising material in the "Click URL" field under Graphics and click on "Complete>>".



Now the confirmation for the upload is displayed and you can close the pop-up window/tab.

Your ad has been created and is now available. After you have clicked on the update button it is displayed in the overview.




You can start editing the advertising material. Click on the name of the creative to access the edit view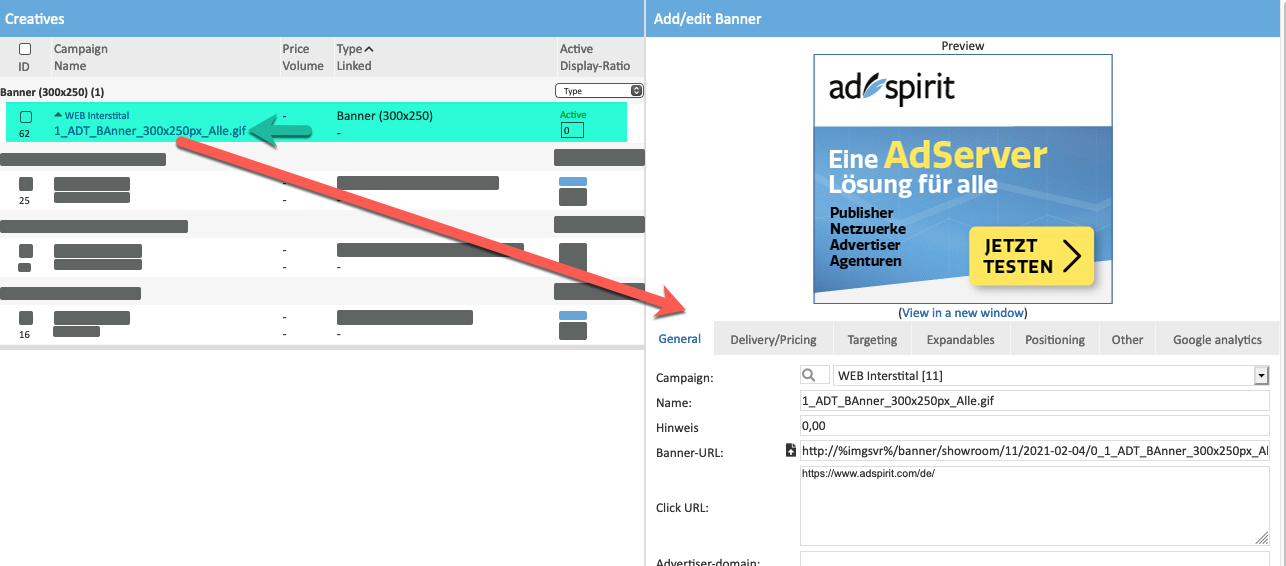 Rider General
Name: AdSlider
Click URL: https://www.adspirit.de
Banner-URL: is generated via the upload
Width/Height: 300x250
HTTPS/SSL enabled: Yes
Asynchronous creative: Yes
Save

Rider Expandables:
ExpandableAd: Yes
Type: Pushdown Ad
is starting: closed
Appear type: I

mmediately

and expanding (space builds up, creative visible

immediately

)
Appear time (ms): 3.000

Rider Positioning:
Deliver as: Layer
Position: absolut positioning
Alignment: Right / Bottom

Important: Save Creative!
Your result will look like this: Werbemittel Vorschau or in our Showroom
Hinweis: Werbemittel wird als Layer ausgeliefert, daher muss es auf eine Layer Werbefläche gebucht werden!