The forecast is a helpful tool. It calculates which view or click numbers could be reached for a certain period, channel and/or format on the basis of the statistics data of the last 30 days.
Please note that the calculation of the forecast is based exclusively on historical data - the calculated values will therefore only occur exactly if all placements remain the same (i.e. all websites continue to deliver exactly the same quantities etc.).
It should also be noted that other ongoing campaigns could access the calculated volume. This means that only a fraction of the calculated volume could be available with other campaigns, depending on the load. The calculation of the forecast can therefore only be regarded as a very rough estimate of the maximum quantity that can be delivered under the same framework conditions.
Data basis:
Min. corresponds to the calculation of the views performed on the basis of the last 30 days.
Max. corresponds to the calculation of requests on basis for the last 30 days.

The example Forecast can be read:
in the entire network are between 1 (view) and 7 Mio (requests) for the selected period.
the selected advertising spaces (xxx.adspirit.de + 200x600 format) together have about 34k (views) to 174k (requests)
very important campaigns are not booked with volume.
There are 25 standard campaigns, a few with volume.
a) The volume booked are together about 24k.
b) If I subtract the 24k from the 174, I get 150k.
c) If I subtract the filling quantity from the 150k again, I come to the 29k.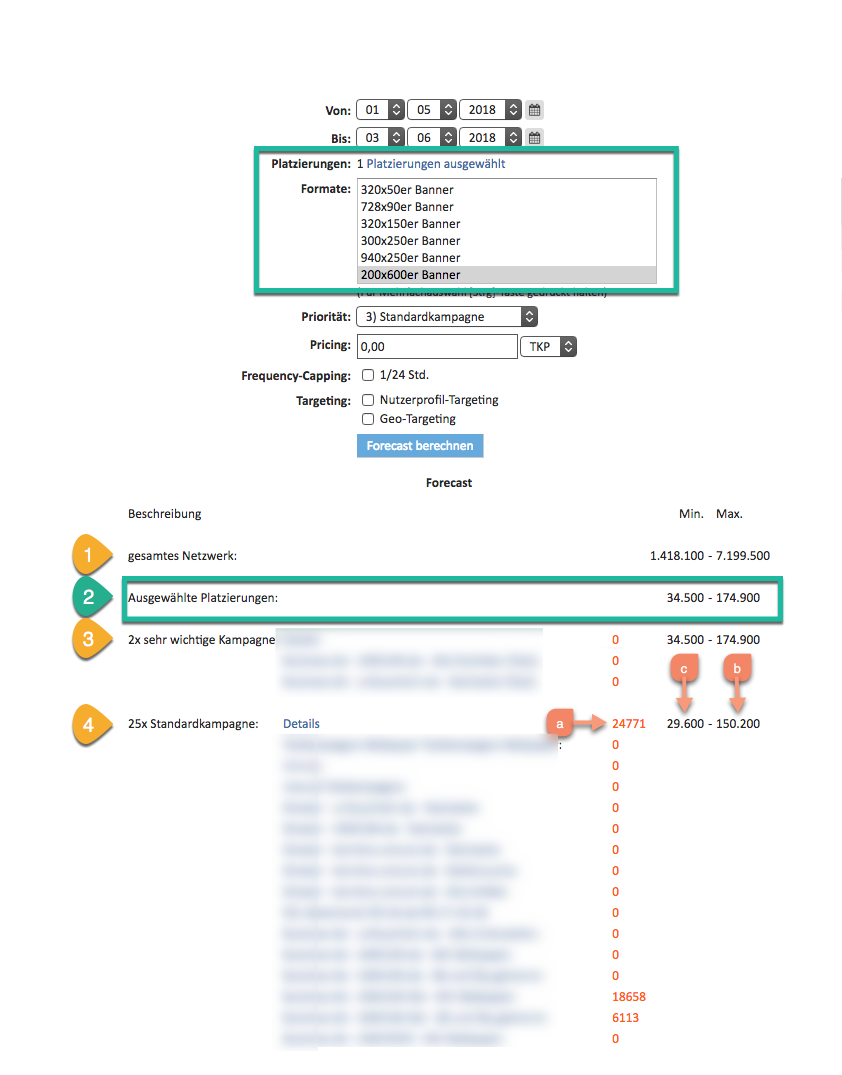 Keyword: forcast