Where can I enter IP blacklists in AdSpirit?
1. Settings -> Global Settings -> Publisher -> Publisher area -> IP-Blacklist

IP-Range-optimizer: Since the blacklist is limited in the number of characters, the use of the IP-Rang-optimizer is recommended. This summarizes IPs into groups / areas and thus saves signs for the setting if necessary.
2. Campaigns -> Targeting -> IP-Targeting -> Configure targeting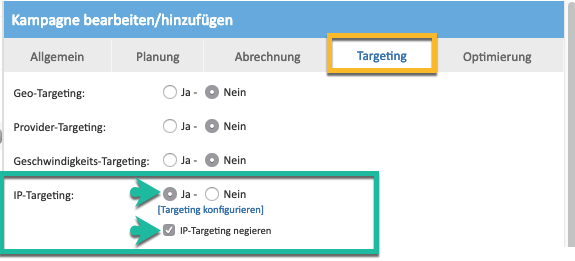 How do I have to enter the IP's?
In IP targeting how do I write the IPs either exactly or a range of up to
1.2.3.4
 or 1.2.3.4 - 2.3.4.5 
No special characters like * or similar.
Bitte beachten
Clicks that come via an IP on the blacklist are not scored and reported with the type 5 (List: Click Tracking Types).